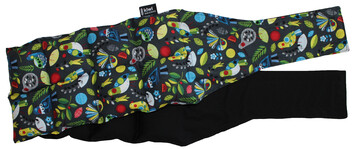 Wearable Wheat Bag
$69.95
Colour:
Winter Meadow Mint
The perfect wheat bag for busy people... wear it while you are on the go at work or at home. The Kiwi Wheat Bags Wearable Wheat Bag is super comfortable, and is designed so it will stay in place whilst you go about your day.
It fits comfortably around the waist, but is versatile enough to be used any where you have aches and pains. Wear it around the back to alleviate lower back and kidney pain, around the front to soothe sore tummies, menstrual pain and endometriosis, or sling it over your shoulder... the possibilities are endless
Hand crafted in New Zealand from 100% cotton fabric and filled with locally sourced wheat. Our Wearable Wheat Bags have 16 individual panels sewn into them to evenly distribute the wheat with fully adjustable strong Velcro to hold your wearable wheatbag in place.
Microwave to use warm or freeze for use as a wearable cold pack.
One size fits most... the adjustable strap fits waists measuring from 75cm to 120cm (if you require a smaller or larger than this, please contact us to discuss your requirements).
Approximate weight: 1.2kg
SKU: 10000-68